Shopping Cart
Your Cart is Empty
There was an error with PayPal
Click here to try again
Thank you for your business!
You should be receiving an order confirmation from Paypal shortly.
Exit Shopping Cart
Mercy Christian Counseling
NCCA Licensed Clinical Pastoral Counseling with Temperament
Old griefs, resentments, abuses, injustices, and losses can have a crippling influence on the human psyche. An inability or unwillingness to forgive the past impairs the present and darkens your prospects for a happy future.
I think about Allen, whose father constantly belittled him as a child, no matter how hard he tried or how well he did. Allen came to counseling, a man of nearly 60 and successful by any reasonable standard, in many ways still that young boy who wished only for his now dead father's approval. He said, "I wish he could see me now." Self-doubt and depression were his frequent companions.
Angie, a brilliant and dedicated professional at the top of her career, was crushed under the hammer of a heartless, unreasonable employer until she mentally broke down under the heavy-handed injustice. She was forced out of a career that gave meaning to her life. She is in bondage to the memory of a life and status she can no longer have. She lives with a heavy burden of bitterness and fear.
Melody was sexually molested in the church at a young age, and then again as a teen. Her parents and church leaders blamed the molestation on her. As an adult she has rejected the church and bears deep resentment toward her parents. She struggles to maintain a moral center because those who should have protected her failed to do so. The universe seems chaotic. She is angry and openly rebellious.
These are just three examples of what people face every day. You may be able to point back in time to an event that changed you in a negative way, a memory that you frequently rehearse in your mind. It's a memory that colors your everyday world and keeps part of you stuck in the past, unable to be what you want to be. You bump up against it sometimes even if you've managed to keep it pushed down most of the time. If this is happening to you, it's time to open your prison door, step through into the light, and slam that door shut behind you. You can do it!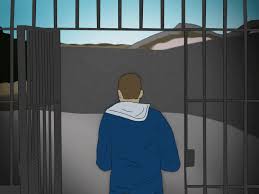 To heal from the past will require you to change your focus, so I want to give you something else—actually someone else—to focus on. That Someone is God. You need to know that He is aware of your struggle, and He has not and will not leave you alone in your sorrow and anger.
A promise from the Lord that spans all time is given in Deuteronomy 31:6 and reiterated in Hebrews 13:5:
"Be strong and of good courage., do not fear nor be afraid of them; for the Lord your God, He is the One who goes with you. He will not leave you nor forsake you."
He is the God who sees. He knows your affliction. He also knows His purpose for you. Yes, He does have a purpose for you. Your life is more than you think. It was never God's intention that you would try to make everything work on your own. Some responsibilities do belong to you, but not all of them. Some belong to God. For example, ruling in judgment over injustice. Some things happen simply because of the fact of sin in the world—sins of others and sins of ourselves. We can barely control our own propensity to sin. We cannot control the choices of others. And while God does not force His will on anyone, that in no way nullifies the fact that he has a purpose for you. Furthermore, God does not focus on the past, and He doesn't want you to either.
Jeremiah 29:11 reassures us that God has a plan:
"For I know the thoughts that I think toward you, says the Lord, thoughts of peace and not of evil, to give you a future and a hope."
God's thoughts toward you are thoughts of peace. He is not angry with you. He did not punish you. He did not perpetrate evil against you. No, He wants to give you a future full of hope. If this is true, why then must we struggle? Because sin is in the world.
The good news is, God's perspective is that the struggle has purpose. When you align your perspective with God's perspective, you can apply those golden nuggets of wisdom that are the fruit of your struggle. Then you will have found the profound keys to your own healing, which are born of an understanding of a greater good. Romans 5:1-5 gives us God's perspective on the good purpose for our struggles:
"Therefore, having been justified by faith, we have peace with God through our Lord Jesus Christ, through whom also we have access by faith into this grace in which we stand, and rejoice in hope of the glory of God. And not only that, but we also glory in tribulations, knowing that tribulation produces perseverance; and perseverance, character; and character, hope. Now hope does not disappoint, because the love of God has been poured out in our hearts by the Holy Spirit who was given to us."
If you would be free of your past, you must accept that it happened and stop holding out for some miracle that will somehow make it all right. That usually doesn't happen. You are the only one who can make a choice to walk out of your prison and slam the door behind you. The past cannot change, but you can change. You can reclaim your freedom by trusting in God and forgiving your past. Forgiveness is not meant for those who hurt you; it is meant to free you from your prison. When you forgive, you agree to accept the consequences of others' bad behaviors (or even your own) and stamp the debt PAID. When the debt is paid, you no longer have a claim on it. It is as if it never happened. That's what it takes to get free.
Rest in God. It is His job to avenge His children, not yours. You can move on with your life knowing that the God Who Sees will take care of the past in due time. I will leave you with a few final promises from the Word of God. In the meantime, when your mind wants to focus on past hurts, turn your eyes instead heavenward, "and the things of earth will grow strangely dim in the light of His glory and grace."
Matthew 11:28-30—"Come to Me, all you who labor and are heavy laden, and I will give you rest. Take My yoke upon you and learn from Me, for I am gentle and lowly in heart, and you will find rest for your souls. For My yoke is easy and My burden is light."
Matthew 5:43-44—"You have heard that it was said, 'You shall love your neighbor and hate your enemy.' But I say to you, love your enemies, bless those who curse you, do good to those who hate you, and pray for those who spitefully use you and persecute you"
Psalm 37:7—"Rest in the Lord, and wait patiently for Him; do not fret because of him who prospers in his way, because of the man who brings wicked schemes to pass."
Proverbs 3:5-6—"Trust in the Lord with all your heart, and lean not on your own understanding; In all your ways acknowledge Him, and He shall direct your paths."
Psalm 37:10—"For yet a little while and the wicked shall be no more; Indeed, you will look carefully for his place, but it shall be no more."
Hebrews 10:37--"For yet a little while, and He who is coming will come and will not tarry."
As you read and ponder these words, I pray that your faith in God may be like a great well of healing water for your heart and mind. I pray that you will know that the past does not define you. I pray that you will choose to shut the door on your past and live!
Susan A. Haberkorn, Ph.D.
NCCA Licensed Clinical Pastoral Counselor
Categories: None
/